Triangle High traction Arrière 45mm - Rêve D
Only 4 units left
Pickup available at Entrepot DPZ
Usually ready in 4 hours
Triangle High traction Arrière 45mm - Rêve D
Entrepot DPZ
Pickup available, usually ready in 4 hours
200 route du rotey, ZAC de rotey
73460 Notre dame des millieres
France
+33756928934
RD-009-45 - Triangle High traction Arrière 45mm - Rêve D
Les bras inférieurs arrière HT (High Traction) ont été créer par l'équipe de développement Rêve D après avoir effectué des tests avec différents matériaux, formes et dimensions pour obtenir la meilleure traction arrière.
Les bras inférieurs arrière HT, fabriqués en matériau Duracon (POM) léger et très rigide, sont coupés CNC, ce qui permet d'obtenir une finition super précise et améliore considérablement le mouvement de la suspension.
De plus, en utilisant une conception réversible, la hauteur de montage de l'amortisseur peut être sélectionnée parmi deux types et peut être facilement ajustée en fonction des conditions de la surface de la route et du style de conduite (voir l'explication ci-dessous pour plus de détails).
Il existe trois longueurs: 45 mm, 48 mm et 51 mm. Veuillez sélectionner en fonction de la largeur de votre corps et de la largeur du support de suspension.
Veuillez essayer le HT Loar Arm pour la meilleure traction arrière.
Châssis accessible:
La série YD-2, etc. La goupille de suspension intérieure peut être utilisée pour Φ3 mm et la goupille de suspension extérieure est Φ2 mm.
Accessoires pour bras inférieurs arrière HT:
Vis taraudeuse M2 x 4 pièces (pour la fixation des goupilles de suspension extérieures)
Entretoise POM épaisseur 6 mm x 2 pièces
* La largeur du bras inférieur arrière HT du côté de la goupille de suspension intérieure est 6 mm plus étroite que le bras de suspension d'origine de la série YD-2.
Par conséquent, lorsque vous l'utilisez avec la série YD-2, utilisez l'entretoise de 6 mm d'épaisseur incluse.
The mounting height of the damper can be selected by replacing the left and right suspension arms.


Position basse

Vous pouvez induire positivement le roulis et améliorer l'adhérence latérale.


Il améliore les performances de traction et permet une conduite compétitive.
* Selon la machine utilisée et les spécifications de l'amortisseur, il peut être nécessaire de modifier la longueur de l'amortisseur ou la hauteur de montage supérieure de l'amortisseur.
◆ 45 mm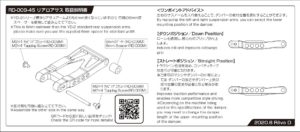 ◆ 48 mm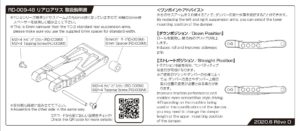 ◆ 51 mm